Todos los Newsletters anteriores pueden verse en el margen izquierdo de la portada de nuestra página web.

All previous Newsletters can be seen in the left margin of the cover of our web page.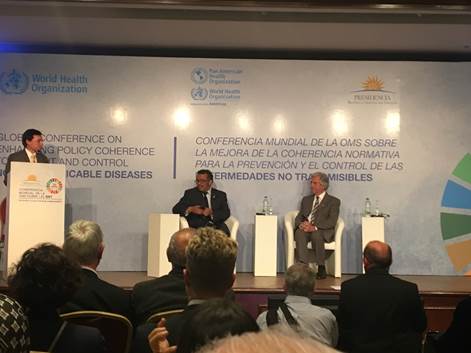 El Presidente de Uruguay y la OMS organizan una conferencia mundial sobre ENTs
Del 18-20 Octubre 2017, líderes mundiales se reunieron en Montevideo, Uruguay, para promover la salud y el desarrollo nacional mediante la adopción de medidas para combatir las enfermedades no transmisibles (ENTs), enfermedades cardiovasculares, cáncer, enfermedades crónicas pulmonares y diabetes. OMS, la Oficina del Presidente del Uruguay, y el Ministro de Salud del país organizaron la Conferencia Mundial sobre ENTs.
Jefes de Estado y de Gobierno y ministros de todo el mundo hoy se comprometieron a una acción nueva y audaz para reducir el sufrimiento y muerte por enfermedades no transmisibles (ENTs), principalmente enfermedades cardíacas y pulmonares, cánceres y diabetes, los principales asesinos del mundo. Los gobiernos respaldaron la Hoja de Ruta de Montevideo 2018-2030 sobre ENT como prioridad de desarrollo sostenible en la apertura de la Conferencia Global sobre Enfermedades no transmisibles de tres días en Montevideo, organizado por la OMS y la Presidencia de Uruguay.
Visite: http://who.int/conferences/global-ncd-conference/Roadmap-ES.pdf
Uruguay President and WHO stage global conference on NCDs
From 18-20 October 2017, world leaders met in Montevideo, Uruguay, to promote health and national development through taking action to beat noncommunicable diseases (NCDs), cardiovascular diseases, cancer, chronic lung diseases and diabetes. WHO, the Office of the President of Uruguay, and the country's Ministry of Health organized the Global Conference on NCDs.
Heads of State and Government and ministers from around the world today committed to new and bold action to reduce suffering and death from noncommunicable diseases (NCDs), primarily heart and lung diseases, cancers and diabetes, the world's leading killers. Governments endorsed the Montevideo Roadmap 2018-2030 on NCDs as a Sustainable Development Priority at the opening of the three-day Global Conference on Noncommunicable Diseases in Montevideo, hosted by WHO and the Presidency of Uruguay.
Visit: http://who.int/conferences/global-ncd-conference/Roadmap.pdf
---
Lanzamiento - Asociado Postdoctoral en Oncologia Global en la Universidad de Miami
Nos da mucho gusto poder compartir el lanzamiento de una nueva posición, el Asociado Postdoctoral en Oncología Global en el Colegio Miller de Medicina en la Universidad de Miami (UM). Esta posición es específicamente para un médico de Latino América y durará un periodo de un año en el Sylvester Centro Comprensivo de Cancer localizado en UM. El propósito de esta nueva posición es la especialización de un oncólogo en la disciplina de Oncología Global.
Se espera que el médico se desarrolle para poder liderar esfuerzos del control de cáncer, mejorar los resultados clínicos y de salud, dirigir investigaciones de economía de la salud, y propugnar por la mejoría en sus sistemas de salud al regreso a su país de origen.
Esta posición tendrá un salario de $53,000 USD al año más seguro de salud.
Les agradezco su colaboración en compartir esta oportunidad. Pueden entrar a la aplicación siguiendo este sitio web: http://bit.ly/2xMa7k7
Launching - Postdoctoral Associate in Global Oncology at the University of Miami
We are pleased to share the launching of a new position, the Postdoctoral Associate in Global Oncology at the Miller School of Medicine at the University of Miami (UM). This position is specifically for a Latin American doctor and will last for a period of one year at the Sylvester Comprehensive Cancer Center located at UM. The purpose of this new position is the specialization of an oncologist in the discipline of Global Oncology.
The doctor is expected to develop to be able to lead cancer control efforts, improve clinical and health results, conducting health economics research, and advocate for the improvement in their health systems upon return to their country of origin. This position will have a salary of u$s 53,000 a year plus health insurance.
Your collaboration in sharing this opportunity is appreciated. You can visit the application following this web site: http://bit.ly/2xMa7k7
---
ecancermedicalscience Invitación a presentar artículos

ecancermedicalscience es una revista médica integral fundada por el Instituto el Instituto Europeo de Oncología (IEO), con la meta de mejorar las comunicaciones del cáncer. Creemos firmemente que la investigación oncológica vanguardista debe estar disponible para todos.

Aceptamos artículos en todos los aspectos relacionados con la investigación y tratamiento del cáncer. La revista publica una gran variedad de diferentes tipos de artículos, incluyendo trabajos de investigación, artículos de revisión y casos clínicos.

Porque publicar con nosotros?
Publicación rápida (un máximo de dos meses)
Esquema de Pague lo que pueda permitirse
Amplia diseminación para los artículos publicados - la revista es de libre acceso y está indexada en PubMed, PubMed Central, Scopus, Embase, EBSCO, Web of Science (via ESCI) y Google Scholar
Los artículos pueden ser sometidos en inglés, español o portugués.
Nuestro sistema métrico permite a los autores ver sus visitas, citaciones y cuantas veces ha sido compartido el artículo en internet
Amplia visibilidad, incluyendo redes sociales y entrevistas con los autores
Más de 50.000 lectores al mes
Visite http://ecancer.org/author para someter su último trabajo de investigación – por favor póngase en contacto con editor@ecancer.org si tiene preguntas sobre la revista
ecancermedicalscience Invitation to submit articles

ecancermedicalscience is an integral medical maganize founded by the Europen Institute of Oncology (IEO), with the aim at improving cancer communications. We firmly believe that avant-garde oncology research should be available for all.
We accept articles on all aspects related with the investigation and treatment of cancer. The magazine publishes a great variety of different types of articles Including research papers, review articles and clinical cases.

Why publish with us?
Quick publication (a máximum of two months)
Scheme of Pay As You Go
Broad dissemination for published articles – the magazine is of free access and is indexed in PubMed, PubMed Central, Scopus, Embase, EBSCO, Web of Science (via ESCI) and Google Scholar
The articles can be submitted in English, Spanish or Portuguese.
Our metrical system allows authors to check their visits, quotes and how many timess the article has been shared in internet
Wide visibility, Including social networks and interviews with authors.
More than 50.000 readers per month
Visit http://ecancer.org/author to submit your last research work – please get in touch with editor@ecancer.org if you have inquiries about the magazine
---
XVIII Congreso Latinoamericano de Mastología
Noviembre 9-11, 2017 – Hotel Jaragua, Santo Domingo, República Dominicana
Se está preparando la realización del 18° Congreso Latinoamericano de Mastología, a realizarse del 9 al 11 de noviembre en el Hotel Jaragua en Santo Domingo, República Dominicana.
El cáncer de mama es una realidad epidemiológica preocupante en Latinoamérica y el resto del mundo y, particularmente en países en vías de desarrollo, la prevención, diagnóstico y el tratamiento de esta enfermedad que golpea tanto a nuestras mujeres, tiene un doble reto, ya que a veces no contamos con los recursos económicos para cursar las mejores opciones terapéuticas, aunque contamos con expertos en la materia de calidad mundial en todos nuestros países latinoamericanos, cosa que nos debe llenar de mucho orgullo.
Contaremos con la presencia de personalidades de talla mundial en el manejo del cáncer de mama.
Abstracts hasta: Septiembre 30, 2017
Para inscripciones y coordinación general escribir a: grupos4@turenlaces.com
XVIII Latin American Congress of Mastology
November 9-11, 2017 – Hotel Jaragua, Santo Domingo, Dominic Republic
The 18th Latin American Congress on Mastology is being prepared, to take place from 9 to 11 November at the Hotel Jaragua in Santo Domingo, Dominican Republic.
Breast cancer is a worrisome epidemiologic reality in Latin America and the rest of the World, particularly in developing countries, prevention, diagnosis and treatment of this disease that has such impact in our women, has a double challenge, since we sometimes do not have the economic resources to perform the best therapeutic options, although we have experts in the subject of world quality in all of our Latin-American countries, something which should make us all proud.
We will count with the presence of world-class personalities in the handling of breast cancer.
Abstracts until: September 30, 2017
For registration and general coordination write to: grupos4@turenlaces.com
---
Congreso Oncológico ecancer Uruguay
Noviembre 17-18, 2017 - Hotel Sofitel, Montevideo, Uruguay
ecancer es el canal líder en Oncología, comprometido a mejorar la comunicación y educación sobre el Cáncer, con el objetivo de optimizar la atención al paciente y los resultados. Mediante el uso de las más recientes tecnologías, ecancer trabaja en estrecha colaboración con figuras líderes en Oncología, para informar y educar a la comunidad mundial sobre el Cáncer.
El Congreso concentrará los últimos avances en Oncología, haciendo énfasis en diversos módulos incluyendo: cáncer de piel, cáncer gástrico, cáncer de próstata, cáncer ginecológico, cáncer de mama, cáncer de cabeza y cuello, cáncer de pulmón, cáncer hematológico y cáncer pediátrico. Paralelamente en el marco del Congreso tendremos una jornada dedicada a "Avances en Radioterapia".
Invitamos a participar de esta actividad única en la región a médicos oncólogos, radioterapeutas, físicos médicos, patólogos, estudiantes de medicina, residentes, investigadores y científicos en este campo, como así también a aquellos interesados en cualquier aspecto del cáncer de toda Latinoamérica.
Para más información visitar: http://www.ecanceruruguay.com/
ecancer Oncology Congress Uruguay
November 17-18, 2017 - Hotel Sofitel, Montevideo, Uruguay
ecancer is the leading channel in Oncology, committed in improving the Communication and education on Cancer, with the objective of optimizing patient care and the results. Through the use of the most recent technologies, ecancer works in close collaboration with leading figures in Oncology, to inform and educate the global community about Cancer.
The Congress will concentrate on the latest progress in Oncology, emphasizing on various modules including: skin cancer, gastric cancer, prostate cancer, gynecological cancer, breast cancer, head and neck cancer, lung cancer, hematological cancer and pediatric cancer. Parallel to the Congress we will have a day dedicated to "Advances in Radiotherapy".
Invited to participate in this unique activity in the region are oncologists, radiotherapists, therapists, medical physicists, pathologists, medical students, residents, researchers and scientists in this field, as well as to those interested in any aspect of cancer in all Latin America.
For more information visit: http://www.ecanceruruguay.com/
---
Innovación en Cáncer de Mama - Simposio
Febrero 23-24, 2018 - Auditorio Rafael del Pino, Madrid, España
El Simposio Innovación en Cáncer de Mama, organizado por el Doctaforum tendrá lugar en Febrero 23 al 24, 2018 en Madrid, España. La conferencia cubrirá áreas tal como programa científico internacional de dos días apuntando a proveer información de última generación sobre cáncer de mama logrando un equilibrio de investigación clínica, traslacional y básica y proveyendo un foro de interacción, comunicación, y educación para oncólogos, ginecólogos y otros especialistas con un especial interés en cáncer de mama.
El simposio está dividido en cuatro sesiones diferentes y cada sesión incluirá tiempo para una discusión abierta entre speakers y asistentes, enfatizando el intercambio de conocimiento entre expertos internacionales.
Se les dará en el sitio un cuestionario de evaluación que se les pedirá amablemente que completen, dándonos una opinión sobre el programa actual y los speakers, y la oportunidad para que usted pueda sugerir cualquier cambio o propuesta para el programa del próximo año.
Para información detallada del: programa, inscripción, speakers, etc. visite: http://www.innovationinbreastcancer.com/
Innovation in Breast Cancer Symposium
February 23-24, 2018 - Auditorio Rafael del Pino, Madrid, Spain
The Innovation in Breast Cancer Symposium, organized by the Doctaforum will take place from 23rd February to the 24th February 2018 in Madrid, Spain. The conference will cover areas like two-day international scientific program aims to provide state-of-the-art information on breast cancer achieving a balance of clinical, translational, and basic research and providing a forum for interaction, communication, and education for medical oncologist, gynecologists and other specialists with a special interest in breast cancer.
The symposium is divided into four different sessions and each session will include time for an open discussion between speakers and attendees, emphasizing the exchange of knowledge between international experts.
You will be given onsite an evaluation questionnaire that you will kindly be asked to fill in, giving us an input on the current program and speakers, and the opportunity for you to suggest any possible changes or proposals for next year´s program.
For detailed information on: program, registration, speakers, etc. go to: http://www.innovationinbreastcancer.com/
---
Simposio de Oncología Molecular Latinoamericano (SOMLA)
Marzo 7-9, 2018 – JW Marriott Lima, Perú
El Simposio de Oncología Molecular Latinoamericano (SOMLA) tiene como objetivo convertirse en un lugar de encuentro en Latinoamérica para oncólogos y otros Licenciados o Doctores del área Biosanitaria con interés en conocer las bases moleculares de la enfermedad tumoral y su implicación en los últimos avances en diagnóstico y terapias.
La ciudad de Lima acogerá del 7 al 9 de Marzo de 2018 esta primera edición del Simposio. Modernidad, tradición, referente mundial por su gastronomía, unido a su estratégica ubicación en un punto central en Latinoamérica, han hecho de esta ciudad la perfecta anfitriona de este Simposio.
SOMLA es una cita que pretende marcar un hito en las agendas de los especialistas Latinoamericanos en Oncología, Hematología, Anatomía Patológica y Radioterapia.
Esperamos que este sea un foro de aprendizaje y de debate enriquecedor para todos los asistentes, y juntos hagamos de SOMLA uno de los mejores foros de encuentro en Oncología Molecular.
Para más información de: programa, speakers, info general, visite http://www.somla.es/
Symposium on Latin American Molecular Oncology (SOMLA)
March 7-9, 2018 – JW Marriott Lima, Perú
The Symposium on Latin American Molecular Oncology (SOMLA) aims to become a meeting place in Latin America for oncologists and other Graduates or Doctors of the Biosanitary area with interest in knowing the molecular bases of the tumor disease and their involvement in the latest advances in diagnosis and therapy.
The city of Lima will receive this first edition of the Symposium next March 7-8, 2018. Modernity, tradition, world reference for its gastronomy, together with its strategic location in a central point in Latin America, has made this city the perfect host of this Symposium.
SOMLA is an appointment that aims to mark a milestone in the agendas of Latin American specialists in Oncology, Hematology, Pathology and Radiotherapy. We hope this is a forum for learning and enriching debate for all participants, and together they make of SOMLA one of the best forums in Molecular Oncology meeting.
For more information: program, speakers, general info, visit http://www.somla.es/
---
XX Congreso de Asoprocáncer 2018
Marzo 15-17, 2018 – Barranquilla, Colombia
Con el lema "De lo genético a lo humano", el Congreso de Asoprocáncer 2018, tiene como objetivo abarcar en su programa académico todas las especialidades oncológicas, centrándose en los más recientes avances en inmunopatología y genética del cáncer.
Más de 800 especialistas, médicos generales, enfermeras y profesionales de la salud que deseen actualizarse y entrar en el contexto de los más recientes avances en inmunopatología y genética del cáncer.
Con el lema "De la genética a lo humano" ASOPROCÁNCER is glad to invite the national a comunidad médica oncológica nacional, a la industria farmacéutica, de tecnologías e investigación a participar en el próximo Congreso que se realizará los días 15, 16 y 17 de marzo de 2018 en la próspera y pujante ciudad de Barranquilla, en las instalaciones del Hotel Dann Carlton.
Para información detallada sobre: inscripción, presentación de trabajos, patrocinadores, speakers, programa, etc. visiten: http://asoprocancer.co/asoprocancer.html
XX Congress of Asoprocancer 2018
March 15-17, 2018 – Barranquilla, Colombia
With the slogan "From the genetic to the human", The Asoprocancer Congress 2018, aims to include in its academic program all oncology specialties, focusing in the most recent advances in immunopathology and cancer genetics.
More than 800 specialists, general doctors, nurses and health professionals who wish to who want to upgrade and enter the context of the most recent advances in cancer genetics and immunopathology.
With the slogan "From the genetic to the human" ASOPROCÁNCER is pleased to invite the national cancer medical community, the pharmaceutical industry, of technologies and Research to participate in the next Congress to be held on 15, 16 and 17 of March, 2018 in the prosperous and thriving city of Barranquilla, in the facilities of the Hotel Dann Carlton.
For detailed information on: Registration, abstracts, sponsors, speakers, program, etc. visit: http://asoprocancer.co/asoprocancer.html
---
11vo. CONGRESO ARGENTINO TABACO O SALUD
9no. ENCUENTRO ARGENTINO URUGUAYO TABACO O SALUD
1er. CONGRESO TABACO O SALUD DEL CONO SUR
1er. ENCUENTRO REGIONAL TABACO O SALUD
Agosto 17-18, 2018, San Juan, Prov. de San Juan, Argentina
La COALICIÓN LATINOAMÉRICA SALUDABLE o CLAS es una alianza de más de 200 organizaciones no-gubernamentales de Latinoamérica cuyo propósito es prevenir y controlar las enfermedades no trasmisibles (ENT) en esta región (corazón, cáncer, respiratorias, diabetes, mentales, obesidad, ACV, etc.) Sus miembros incluyen sociedades médicas, organizaciones de pacientes, ONG de salud, ONG de consumidores, entidades religiosas y académicas. Fundada en marzo 2011, está orientada a reducir la inequidad, promover los derechos humanos, y favorecer políticas efectivas con impacto en los factores de riesgo y determinantes de ENT. Además de esta Lista General, existe una lista para discusiones sobre incidencia política. Para cualquier cambio, por favor comuníquese con el Mayordomo: clas@interamericanadelcorazon.org
Una iniciativa de la Fundación InterAmericana del Corazón.
Informes e inscripciones: www.congresotabaoosalud.org.ar o a: secretariaasat@asat.org.ar

11th TOBACCO OR HEALTH ARGENTINE CONGRESS
9th ARGENTINE-URUGUAYAN MEETING TOBACCO OR HEALTH
1st SOUTH CONE TOBACCO OR HEALTH CONGRESS
1st TOBACCO OR HEALTH REGIONAL MEETING
August 17-18, 2018, San Juan, Prov. de San Juan, Argentina
The HEALTHY LATIN AMERICA COALITION or HLAC is an alliance of more than 200 Latin American non-government organizations whose purpose is to prevent and control chronic, non-communicable diseases (NCDs) in the region (heart, cancer, respiratory, diabetes, mental, obesity, stroke, etc.) Its members include medical societies, patient organizations, health NGOs, consumer NGOs, religious and academic entities. Founded in 2011, it aims to reduce inequities, promote human rights, and support effective policies with impact on risk factors and determinants of NCDs. In addition to this General List, there is a list for advocacy discussions. For changes, please contact List manager: clas@interamericanheart.org
An initiative of the InterAmerican Heart Foundation.
Informes e inscripciones: www.congresotabaoosalud.org.ar o a: secretariaasat@asat.org.ar
---
Número Especial de Epidemiología del Cáncer
Publicación del 3er número en 2017
El 3er número de 2017 ha sido publicado en Agosto 15 El contenido incluye consenso de expertos chinos y directrices sobre microcarcinoma papilar de tiroides, aplicaciones de la nanotecnología en el tratamiento del cáncer, ARN pequeños y mecanismos relacionados con el NF-κB para el tratamiento del cáncer, el uso de imágenes moleculares específicas en el cáncer de mama HER2-positivo, polimorfismos del receptor de vitamina D y melanoma maligno cutáneo, una experiencia de centro único en adenocarcinoma rectal, y así sucesivamente. Esperamos que estos artículos sean útiles para su investigación y práctica clínica. También le damos una calurosa bienvenida para que envíe sus estudios a Cancer Biology & Medicine.
Por favor, busque el tema a través de este link: https://www.ncbi.nlm.nih.gov/pmc/issues/297469/
Special Issue on Cancer Epidemiology
Publication of the 3rd issue in 2017
The 3rd issue of 2017 has been published on August 15th. The contents include Chinese expert consensus and guidelines on papillary thyroid microcarcinoma, applications of nanotechnology in cancer treatment, small RNAs and NF-κB related mechanism for cancer therapy, the use of specific molecular imaging in HER2-positive breast cancer, vitamin D receptor polymorphisms and cutaneous malignant melanoma, a single center experience on rectal adenocarcinoma, and so on. We hope that these articles will be helpful to your research and clinical practice. We also warmly welcome you to submit your studies to Cancer Biology & Medicine.
Please browse the issue via this link: https://www.ncbi.nlm.nih.gov/pmc/issues/297469/
---
Invitación a autores desde Méjico
Revista Cancerology es una revista médica que publica contribuciones reportando investigaciones científicas, clínicas, epidemiológicas y sociales, que contribuyen al conocimiento general en el campo de la oncología. Cada edición de la revista contendrá una serie de oportunos análisis a fondo escritos por líderes en el campo y casos clínicos..
Requerimos de ustedes, artículos de revisión, Casos Clínicos y "Hot Topics" para el número 4 de este año y el próximo!!! Les solicito que también contacten a sus colegas nacionales y/o Internacionales. Estamos ya en el 2º año de nuestro Journal of Cancerology. Este es el enlace para el Instructivo para Autores http://www.journalofcancerology.com/
Estamos listos y tenemos los requerimientos para solicitar a PubMed y otras instancias para que la revista sea indexada. Por lo que es esta invitación a todos para que apoyen a nuestra muy joven revista "Cancerology".
Invitation to authors from Mexico
Journal of Cancerology is a medical journal that publishes contributions reporting original scientific, clinical, epidemiologic and social research, which contribute to the overall knowledge in the field of the oncology. Each issue of the journal will contain a series of timely in-depth reviews written by leaders in the field and clinical cases.
We require from you, review articles, Clinical Cases and "Hot Topics" for the number 4 of this year and the next!!! We also ask that you contact your national and internacional colleagues. We are already on the 2nd year of our Journal of Cancerology. This is the link to the Instructions for Authors http://www.journalofcancerology.com/
We are ready and have the requirements to request to PubMed and others so that the journal be indexed. For which this invitation is for everyone to support our very young "Cancerology" journal.
---
Observatorio Latinoamericano del Cáncer
El Observatorio Latinoamericano del Cáncer es un grupo de colaboración que reúne 19 miembros de 9 países y diferentes sectores (médicos, asociaciones de pacientes, instituciones) con el fin de analizar y discutir temas relacionados con el estado del cáncer en la región, y ofrecer recomendaciones para avanzar contra la enfermedad.
El Observatorio surgió de una reunión convocada conjuntamente por la UICC y SLACOM en 2014 en Colombia, en la que se acordaron tres puntos clave de acción prioritaria:
Detección temprana de la enfermedad (formación médica y tamizaje)
Acceso a tratamientos (mejor acceso y más oportuno)
Atención integral (con apoyo multidisciplinario y cuidados paliativos)
Para ver Poster, Fact Sheet y LACO Report visitar: http://bit.ly/1SbfDk1
Latin American Cancer Observatory (LACO)
The Latin American Cancer Observatory (LACO) is a multi-stakeholder group that gathers 19 members from across nine countries to discuss and analyze topics relevant to cancer in the region, offering recommendations to make progress against the disease. LACO emerged from a meeting jointly convened by UICC and SLACOM in May 2014 in Colombia. On that occasion, its members agreed on three priority areas to improve cancer control in Latin America:
Early detection of the disease (medical training and screening)
Access to treatment (better and timely access)
Holistic care (multidisciplinary support and palliative care)
To see Poster, Fact Sheet and LACO Report go to: http://bit.ly/1YHb1Tg